Picklemama Report
by Annette (fazzbech)
A friend linked to a very thought-provoking blog post today on Facebook, posted by a photographer. The title of the post is called 'Is there a perfect time', and it discusses how important family photos are. It goes on to say how many of us put off having photos taken because "I want to lose some weight first", or "I have too much going on", or "Maybe next year". I've been guilty of these excuses myself, I must admit.
The essence of the blog post is to say "STOP IT! We need to take the time to appreciate the value of family photos, if not for ourselves (because we're too fat or whatever), then for our children. In 20 years, your children are not going to say 'I really love this photo of my family but I wish my Mum had waited until she lost some weight'."
The author goes on to give a few touching examples of just how important these photos have become to a select few families who have been hit by tragedy. It really makes you stop and think, and I hope it inspires you to step out from behind the camera, grab your family, and make some memories...every year!
You can read the full blog post here:
http://www.debsphotographs.com/photoblog/?p=957
Thanks to Charlie's Photography for the link up!
Pop Deals!
Click on the images to grab a bargain!
For two days only, as a special newsletter promotion, the following items are on sale at 25% off!
Speed Scrap and Chat - What a Night!
by Amandac

Last Thursday night we had our first Speed Scrap'n Chat at Pickleberrypop and whilst some of our members logged in to the chat room with a certain amount of trepidation, by the time everyone had finished scrapping and had posted in the gallery there were smiles all around!
We even managed to get some of our members who haven't scrapped for a while to get in and get dirty – although I think the free template provided on the night might have had a little bit to do with it! It was a great opportunity for everyone to step outside of their comfort zone and try something a bit new. We ended up with some lovely pages in the gallery that we all covered in praise and compliments!

by our very own PickleMama!

The best part of the night was that the chat didn't suffer from everyone scrapping as well, we laughed and teased and were as silly as we normally are…I laughed so hard at one point (Oscar you are a creepy, creepy bear!), I nearly fell off my chair!

by the fabulously funny Kirstie!

Added to the fun we were lucky enough to be given a surprise coupon by the lovely Carolyn Kite so we could award a prize for the night – I believe that the winner was still squealing with happiness when we all said good night!

by Jilbs who won the prize!

Now if this sounds like fun and you think you might like to come and meet some of the crazy pickleheads and their friends please feel free to join us in the chat room on the third Thursday of the month @ 9pm Melbourne time.

Here are a few more time zones to help out those in various places around the world!
07:00pm Singapore
07:00pm Australia (WA)
08:30pm Australia (NT & SA)
09:00pm Australia (ACT, VIC, NSW, QLD, TAS)
11.00pm New Zealand
07.00am US/Eastern
12 noon England (London)
01:00pm France (Paris), Germany (Berlin), Czech Republic

I hope I see you all there next time!
A Challenge or Two?
by fazzbech and the PBP Team
I recently asked the team what sorts of challenges they like to participate in, and why. Not only was it interesting to hear their responses, but also a great way to get feedback on the challenges we run at PBP.

We had a lot of girls say how much they love Scraplift Challenges, so below is a summary of some of the responses they gave, and don't forget, we run a monthly Scraplift Challenge in the forums where you can win a $10 gift certificate to the shop!

They are a great way to get the mojo happening again as well as helping you to try different styles.
They help me to think outside the box.
They are a great way to boost creativity.
They inspire me and quite often get me to try something different than I would normally do.
I love them for pure enjoyment, I adore scraplifts. The PBP scraplifts are wonderful and got me out of a rut in February/March.
I think scraplifts are my favourite!

Here are a few other types of challenges that our team love to participate in. We run another monthly challenge where the topic changes from month-to-month, and many of the challenges you read below get covered during it:

I like challenges that get you to scrap day-to-day stuff, an example is the Home Sweet Home challenge we ran recently. Normally this is not something I would scrap, but these type of challenges are a great prompt to do it.
I have been wanting to participate in a regular Recipe challenge, and scrap an album for my mum of all her/our favourite recipes. The ones that we loved her to cook when we were growing up. The ones that have happy memories associated with them, like baking with her for the bake sales at school, the special dishes she would cook for each of us when it was our birthday, things that she would cook for a treat when one of us was feeling down. Generally, just recipes that make me feel warm and fuzzy inside, and bring back happy memories.
I love challenges where you have to use certain things (e.g. the Pickle Jar challenges), font challenges, and challenges where everyone has to use the same mini kit (it's great to see all the different layouts created with the exact same papers and elements). And did I mention template challenges?!
One of my favourite challenges was a "10 things about me challenge" that we held here at PBP a few years back. I don't scrap about me very often so it was good to get a reminder to stop and scrap something about me!
My favourite challenges are recipe, colour, font and template challenges.
I really like doing the day-to-day challenges too, it is so important to scrap the everyday moments of our lives. It is too easy to forget that one of the reasons we started this hobby/obsession is because we wanted to preserve our memories including the everyday. I also really like doing All About Me challenges because they are hard for me to do (hate my own photo, hate talking about myself, etc.) - I think it is a struggle to produce the page but so worthwhile when they are done! I enjoy doing the Pickle jar challenges too, Pat comes up with some great ideas!
I enjoy challenges that have you scrap things you normally wouldn't. Like scrapping about your favourite things, or about yourself, or your house.

Lastly, have you checked out the challenges in The Artisan Notebook? Their creative teams work hard each month to show you layouts from the challenges, and are well worth seeing! Here is what the editor of The Artisan Notebook (Stacey Jewel Stahl) had to say about them, as well as Amanda, who scraps for both PBP and The Artisan Notebook:

I like challenges to be, well, challenging. I like it when a challenge pushes me to try something new, to take a photo that I hadn't thought of taking, to try a technique in combination with another technique, etc. I am truly biased, but I love the challenges in The Artisan Notebook with the layouts made by the creative teams: Journaling challenge, colour challenge, title challenge, scraplift challenge, recipe challenge and style challenge.
Well I have to say I just adore the Just Write Challenges that I scrap for Artisan Notebook - those ladies seriously know how to get your grey cells working! It really is so special for me to be able to take part in these challenges.
Do you participate in challenges? I must say, from personal experience, there have been some challenges that I really had no desire to participate in, but once I actually gave them a go, I was hooked! Maybe you could do the same?!

Amanda's Fabulous Font Find!
by Amandac
I am having a fun, funny day and thought it would be nice to have some fonts to scrap with to suit my crazy mood! Googling 'Dr Seuss free fonts' led me to these two fonts! Strangely enough I realised that I don't have these two fonts yet in my stash – I never thought that would be possible!
These fonts are just perfect for your crazy, silly kid's pages! Why not tie it all together with some of the hilarious Dr Seuss Quotes we providd in this edition of the newsletter?!
Dr Seuss from discoverfonts.com
Gallery Standouts!
Check out the gallery for more inspiration!

Have you seen the amazing work that is popping up all over the PBP gallery of late? Here are just a few layouts that really caught our eye over the last few weeks!
Keep on scrapping and uploading to the gallery, you never know when your layout might be featured here!

In This Issue :
Picklemama Report
Pop Deals!
Speed Scrap and Chat Review
A Challenge or two?
Fabulous Font Find
Gallery Standouts
Challenges!
Pickle Pick of the Month
FREE Universal Desktop Wallpaper!
Photography Corner
Quotes
Super Quick Tips
Sales and Specials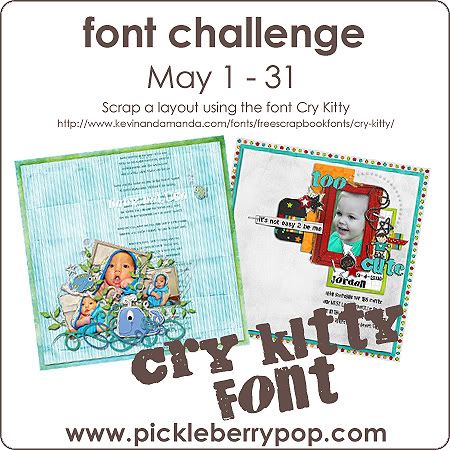 This month lets do a Font challenge with kimberley! I love fonts and I am always on the lookout for fun and playful fonts. I found Cry Kitty and thought it had a funky, typewriter look to it! I hope you guys have fun!
You can find it here free!

Post your layout in the challenge thread BEFORE the challenge closing date, and you could win a $10 gift certificate!
For this month's Scraplift challenge, Tina (nzmumof4) has set the task to lift a gorgeous scrapper Paola. Her gallery is full of inspiration!
Post your layout in the challenge thread BEFORE the challenge closing date, and you could win a $10 gift certificate!

For this month's Photography challenge by Amanda, your challenge is to photograph what you have for breakfast! Inspired by this quote by Adelle Davis: "Eat breakfast like a king, lunch like a prince, and dinner like a pauper".
(Above photos 1. breakfast with view, 2. All happiness depends on a leisurely breakfast, 3. Tia is serving breakfast
via flickr)
This month, Pat's Pickle Jar challenge is about scrapping music! We are surrounded by it! Whether it be because you have the radio on, or listening to your ipod or the catchy commercial jingles, there is music everywhere!

Post your layout in the challenge thread BEFORE the challenge closing date, and you could win a $10 gift certificate!
Get a head start on your next page and join in this great Template challenge with the fabulous Dawn Inskip!
Extraordinary - ziutka1980
This month's pick was a standout due to it's fabulous sense of laughter! The clever use of white space draws the eye directly to the funky clustering surrounding that gorgeous and ENORMOUS smile! The colours are fun and the photo treatment enhances the overall feeling of laughter. Congratulations on a wonderful page!
Congratulations ziutka1980! Please PM fazzbech via the forums to receive a special gift certificate for your next order in the pop shop!
FREE Universal Desktop Wallpaper!
Not only can you resize to suit your screen size, but you can place the photo cluster wherever you like, so as not to interfere with important items on your desktop!

Our June Universal Desktop Wallpaper is brought to you by PST Designs, using various items from various kits, including a few new pieces!

You can download HERE or click on the image above, no coupon required!
Instructions for use can be downloaded HERE.


Photography Corner
by fazzbech
Photo taken by matthew_hull at Morguefile.com
Fantastic short tips to help you take some creative photos!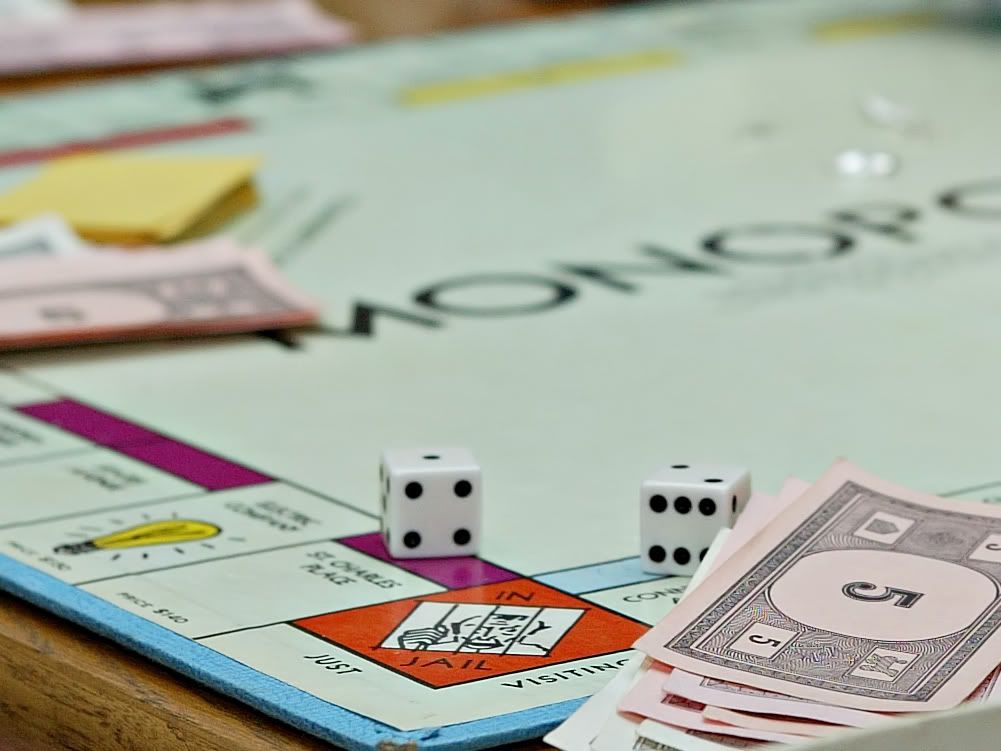 Inspired by our current Avatar challenge, if your family and friends enjoy spending time together playing some good old card or board games, make sure you capture the fun! We live in such a fast-paced, technological world, it would be nice to keep some of the more old fashioned past-times living on through future generations, don't you think?!


Quotes!
by Amandac
Feeling a little crazy? How about some Dr Seuss quotes for a bit of fun!

"You know you're in love when you can't fall asleep because reality is finally better than your dreams."
"Today you are You, that is truer than true. There is no one alive who is Youer than You."
"Be who you are and say what you feel because those who mind don't matter and those who matter don't mind."
"Sometimes the questions are complicated and the answers are simple."
"Today was good. Today was fun. Tomorrow is another one."
"How did it get so late so soon? Its night before its afternoon. December is here before its June. My goodness how the time has flewn. How did it get so late so soon?"
"You're in pretty good shape for the shape you are in."
"I'm sorry to say so but, sadly it's true that bang-ups and hang-ups can happen to you"
"From there to here, and here to there, funny things are everywhere."
"I like nonsense, it wakes up the brain cells."
"I know up on the top you are seeing great sights, but down at the bottom we, too, should have rights."
"You have brains in your head. You have feet in your shoes. You can steer yourself in any direction you choose. You're on your own. And you know what you know. You are the guy who'll decide where to go."
Super Quick Tips
by Teresnlilly
Check out these great links for some tricks, tips and inspiration!
Smashing magazines Time Saving Tricks for Photoshop
MCP Actions - free and for purchase actions plus online training and tutorials